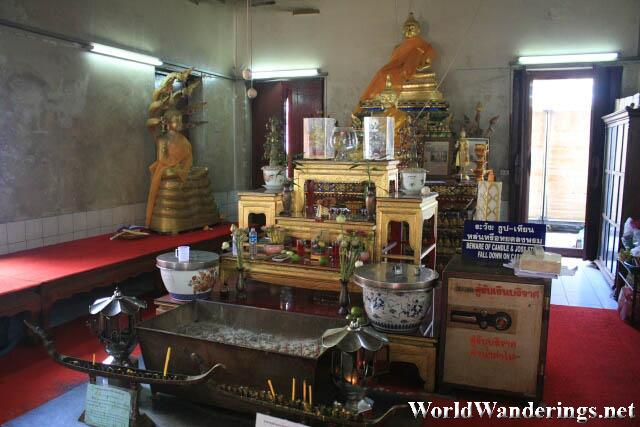 Finally done with the Grand Palace, I started to walk to my next destination. I was intending to go to the Wat Pho which was just nearby the Grand Palace. While I was trying to get my bearings on my map, big mistake, a nice middle aged man approached me and asked where I was going. He told me that he once worked in the Middle East and he had a lot of colleagues from where I came from. I told him I wanted to go to the Wat Pho. Luckily for me, I ran into him and he told me that the Wat Pho was closed at that time.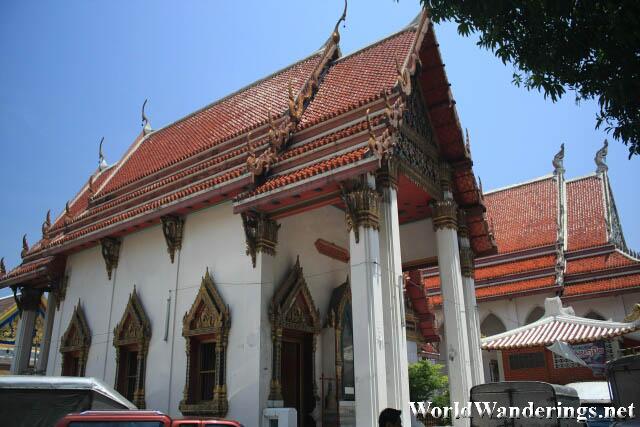 He rcommended that I go visit a temple with a Black Buddha which, surpise, is open only once a year and only on that day! Imagine my luck! He then hailed a tuk tuk passing by to bring me to the Black Buddha Temple, the Golden Mount and a mandatory trip to the gem factory which he said will give the driver a petrol coupon, so he was requesting that I drop by there and not even buy anything from the place. Fine. Since the trip was cheap, I could do him a favor.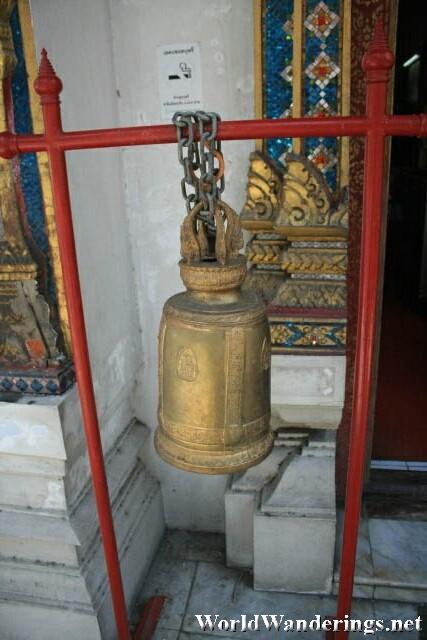 The tuk tuk driver quickly got me to the Black Buddha or Lucky Buddha temple, whatever. It was suspiciously located in a back alley with a lot of cars. The driver then asked me to get off to see the Black Buddha. When I got there the Buddha wasn't black at all but golden. Fortunately someone was there to explain what was going on. So convenient. This Buddha temple was supposedly open only one a year and I was lucky enough to be here when it was open. I didn't think there was anything special in the Buddhal itself as it seemed ordinary to me.
The nice gentleman was a business specializing in jewelry, he claimed he goes to Singapore quite often on business and even has a business card of his client to prove it. He said that if I was interested, there are gems that can be bought for "factory" price without taxes. But I need to hurry since the government will be imposing taxes on them soon. I was not really into jewelry anyway and I think he was able to tell, so he just continued on with his offering of incense.
Scam or not I would never know either way it didn't work, I think. I think it was all in preparation for the trip to the jewelry factory. Either way, I'm not really interested in any of their stuff. But this story sounds suspicious similar to other scam stories I've read about. It seems that they are really that good.
[xmlgm {http://www.worldwanderings.net/kml/GrandPalace.kmz}]