The Church of Saint Paul is situated on top of Bukit St. Paul which commands impressive views the surrounding area. The Church of Saint Paul has deteriorated over the years with the abandonment of the church by the Dutch in favor of a more accessible Christ Church just below the hill. What remains of the church is the bell tower where the statue of St. Francis Xavier is and the main church building. Upon entry, the main church building is actually hollow. There are no structures inside, just the walls. There is no roof either.

Amusingly, there is a group of buskers inside the main church grounds playing guitar and singing songs. They were speaking in Malay, although some words are quite prominent like "makan" which means "eat". Along the walls of the church are large tomb stones which were put here by the Dutch. I don't understand why they needed to bring the tomb stones here when their official church is down the hill. The tombstones were quite impressive with elaborate design and carvings.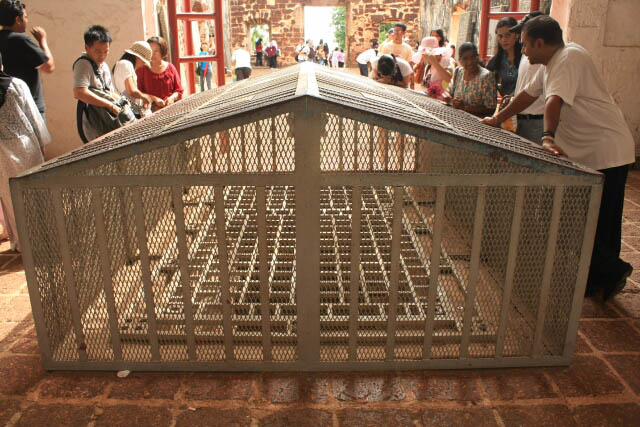 Inside further down is a structure I wasn't really sure. I was like pit which opens to the ground below, but it is covered by a steel cage. The locals turned to throwing coins in the cage, turning it to a wishing well. I don't really know what it was before all this but now, it is a wishing well. There were a lot of people visiting at the time, little surprise since this place is one of the more significant locations in the Melaka historical site. It is also noteworthy that supports have been placed on the archways to make sure that the rest of the church doesn't come tumbling down.
[xmlgm {http://www.worldwanderings.net/kml/St.Paul'sChurch.kmz}]