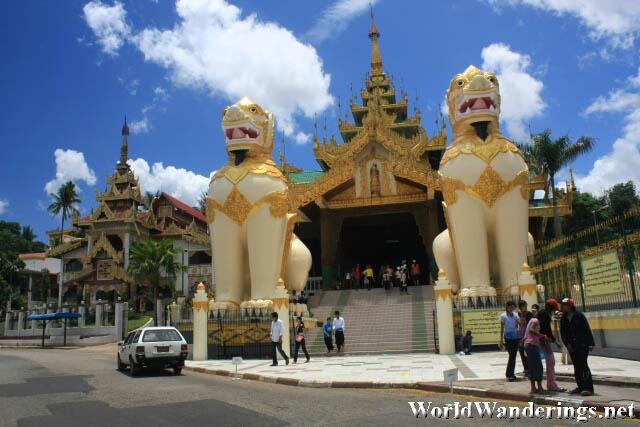 In the noontime heat, I was basically seeking shelter in the cool temples within the shwedagon Paya grounds. There were enough temples to go around too, so you would never feel crowded. Most of the people seem to be able to take the heat anyway. I continued my way around the Shwedagon Paya, and as I was taking photos, near one of the entrances, one of the ushers asked if they could see my sticker. I showed them the pass from the previous day, and she said that I need to buy another one since that was from yesterday. I tried to reason with her since I was there only in the late afternoon but she insisted that I get a ticket from the counter.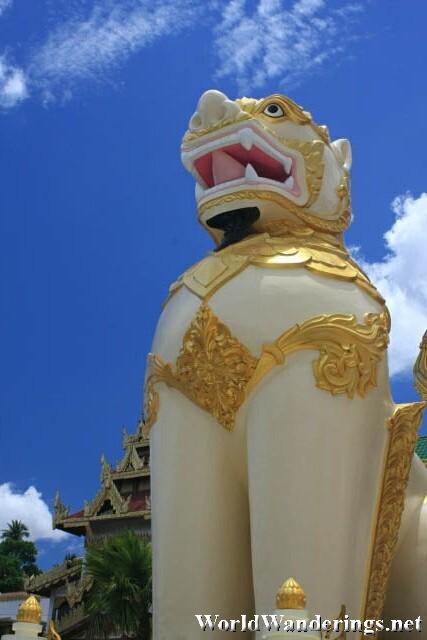 Well, now that I have already been there for half a day, I felt like I took all I can take here in the Shwedagon, so I decided to forego the additional ticket. Who's want to pay again anyway, although the place was really worth it. I then made my way out of the grounds wondering how she managed to know I haven't paid yet. It seems they use a different sticker everyday, apparently, my sticker didn't have the correct color. It was funny that I managed to pass through several checkers before this last one. Anyway, I was glad that I didn't have to fork out additional cash for that.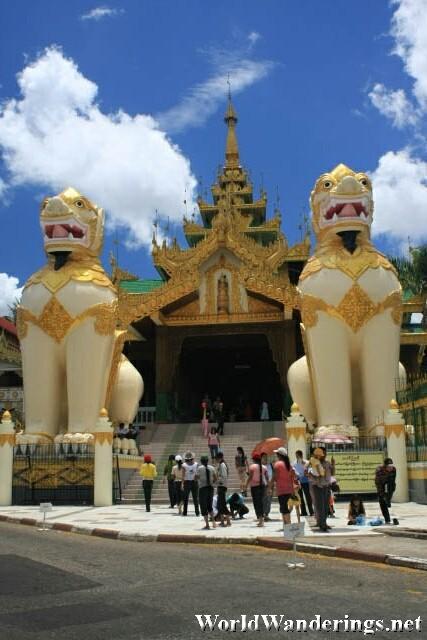 Outside the entrance where there were two massive lions guarding the entrance. I tried to figure out how to get back to the Motherland Inn II, I wanted to take the pickup to the Sule Pagoda, there wasn't any at that time. There was, however, a taxi waiting just outside and saw me. The driver spoke decent English and wanted to take me. But I only asked him to bring me to the Sule Pagoda which was cheaper, he insisted that he bring me to the Motherland Inn II because it was difficult for me to walk from Sule Pagoda to Motherland Inn II without getting wet. Which was true, but still doable. Either way, the driver got his way and I paid him the fare. At least I really didn't get wet.
[xmlgm {http://www.worldwanderings.net/kml/ShwedagonPaya.kmz}]