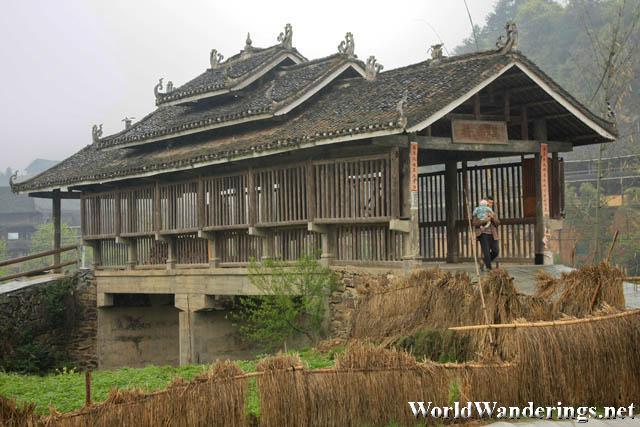 The Chengyang Wind and Rain Bridge is located in the Chengyang Bridge Scenic Park. This park is the home of several villages of Dong minority groups. The Dong architectural style can be easily felt in this park since it is a real living and breathing village. Although needing to pa a minimal entrance fee takes a little of the magic away.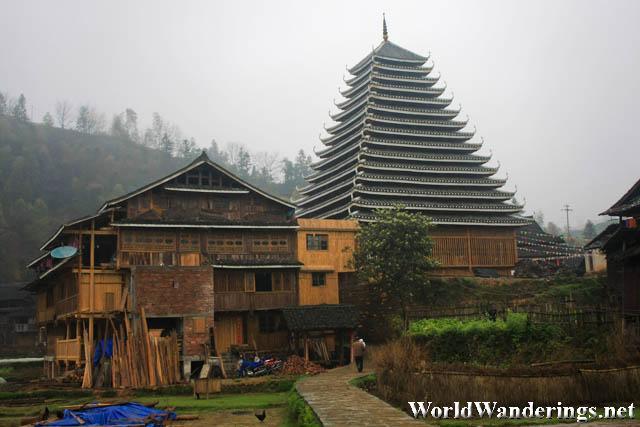 The park consists of several villages some of them very near each other while others still need a more walking. I only had time to cover the nearer ones but I was quite impressed with what I saw. This was a traditional community still living the way they always lived hundreds of years ago. Guangxi has a lot of these minority groups and a lot of them were given autonomy by the central government. Dong is one of the more numerous in the province of Guangxi.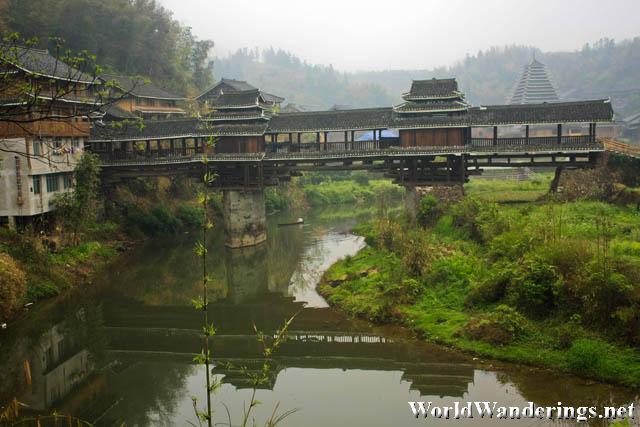 All of the Dong building are made of wood and all have the nice golden brown color on the wood. Although they may already have the modern convenience of satellite television, the still stick to their old way of life.
The village is criss-crossed by a number of small streams, this gives them the opportunity to build their signature wind and rain bridges. There are a number of them here of varying complexity such as the Helong Bridge 合拢桥. I managed to visit a number of the village here in the park such as the Maan Village 马安寨with their distinctive Drum tower. The Ping village 平寨 is just a few meters away from the Maan Village. The East Village 东寨, Big Village 大寨 with the 普济桥 and Yan Village 岩寨 were all within walking distance from the entrance.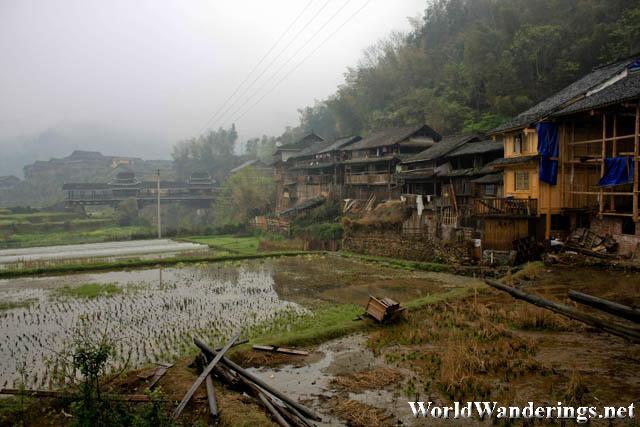 It was raining when I visited so I couldn't take as much photos as I wanted to. I believe it would have been worth staying in this park since there are a number of inns near the entrance of the park. There was also a restaurant beside the ride. It would be something like the Hunan village of Dehang where you get to see the people up close. Probably even closer than Dehang.
There were only a handful of tourists here so I think it would be a really nice place to stay in. Civilization is just a bus ride away from the entrance of the park. It might was a little out of the way, but this place is still worth a visit.
[xmlgm {http://www.worldwanderings.net/kml/ChengyangWindandRainBridge.kmz} zoom=14]