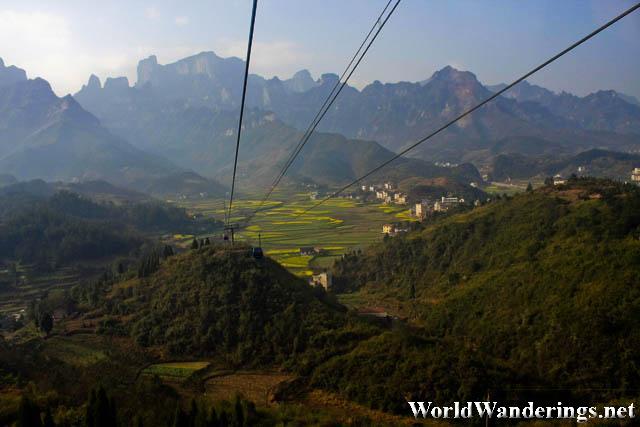 We started early the next day we want to be able come back here by early afternoon. Our next stop in Zhangjiajie is another national park going by the name of Tianmenshan 天门山 or Heavenly Gate Mountain, a name you shall soon understand. To go to Tianmenshan, visitors will have to go to go to the main road near the train station. There are a lot of taxi drivers and touts who will persuade you to buy the ticket from them. I have no idea whether these people are con artists or whether they do this for the commission, but there was little point to entertain them when the ticket booth we right there.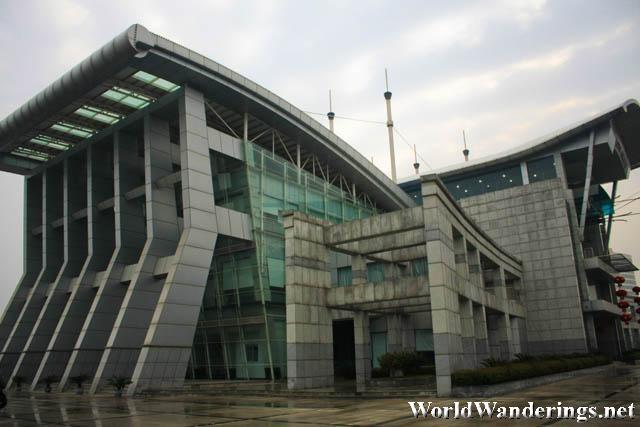 Visitors will need to pay the park entrance fee here. Unlike the ticket at Zhangjiajie National Park, this ticket is only valid for only one day. It was reluctant to come here since this place sound like a huge made-up attraction, but my friend was really interested in visiting this place so I went with him.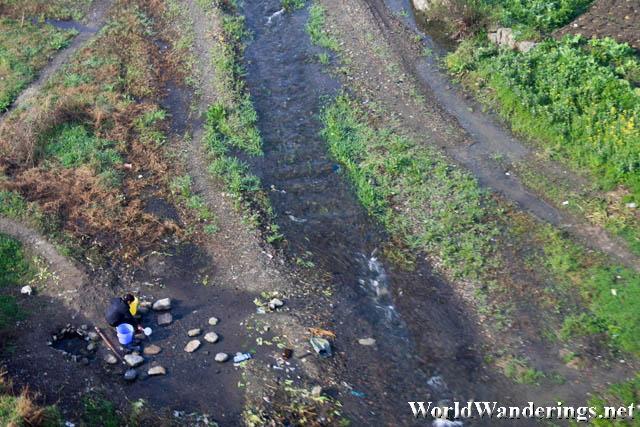 The actual park itself is several kilometers away. And the only way to the park is by taking the world longer cable car ride. I thought that sounded pretty exciting. I can see the mountains in the distance and it really sounded quite outrageous that we would be taking a cable car all the way there.
There weren't really a lot of people going to the park at this time, so we were still able to have a car all to ourselves. As expected the ride was spectacular. It first started from the cable car station then over some parts of the city. But after that it was all rural farmland. It was wonderful to see at rural folk going about their business while we soar higher and higher above.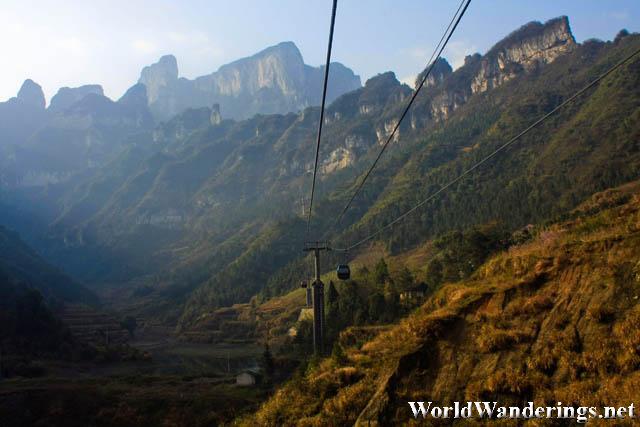 The farmlands soon gave way to rugged mountains. We would find ourselves staring at the mountains and valleys far below us. At one point, the distance between two cable car towers were so great they were actually on two separate mountains. This is another record for this cable car ride as it is the longest distance between two cable car towers. It is a wonder, that the towers can support the massive weight of the cables.
Fortunately for us, the winds weren't that strong so our car wasn't saying very wildly. We enjoyed the ride up the mountain and it took us more than 30 minutes to get to the park. It was truly a wonderful ride, and as my friend said, the cable car ride was already worth the entrance fee.
[xmlgm {http://www.worldwanderings.net/kml/Zhangjiajie.kmz} zoom=14]