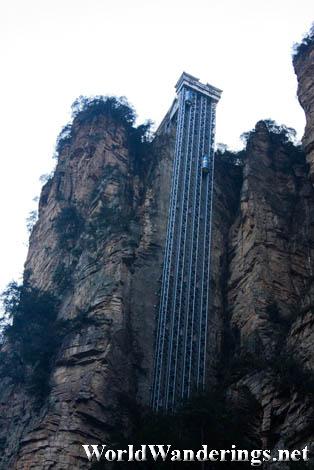 From the carpark of Yuanjiajie, one can choose to either go down by bus or surprisingly by elevator. The Bailong Elevator 百龙电梯 is a fun way to go down the mountain. It is also said to be the highest and heaviest outdoor elevator in the world. It is carved on the side of the mountain and it is quite impressive. I was half expecting it to have a fee to use it and true enough there was one.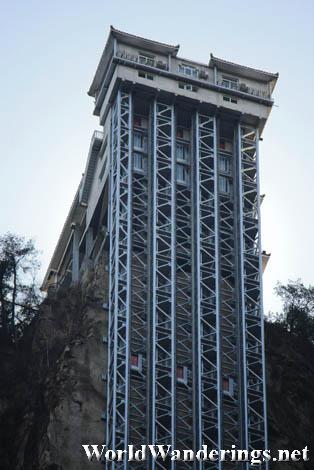 Fortunately, there weren't really a lot of people at that time so we just went straight to the elevator and went down. Unfortunately, the view from above only lasts a short while since the rest of the time, the elevator in inside the mountain. It was also extremely fast visitors will be down to ground level in a few seconds. That would explain how this elevator is also considered the elevator with the highest capacity and also the fastest.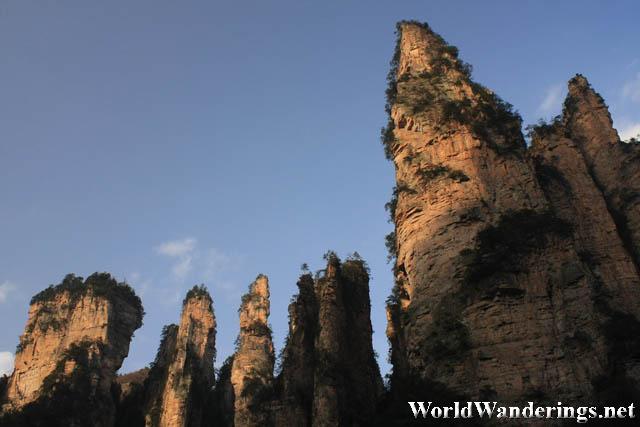 From ground level visitors can get a view of the elevator but it is too high up too see much of it. A zoom lens should be able to bring the elevator much closer into view but even with that there is not much one can see. From the ground level there are still limestone mountains surrounding the area and at the time of our visit, the sun was casting a nice orangle glow on the peaks. From here one can take another bus down to the main parking lot at the entrance. We needed to hurry down since there might not be transportation going out of the park at night. We do not want to take a taxi all the way back to Zhangjiajie city.
Zhangjiajie National Park is a truly remarkable park. The countless limestone peaks are truly a sight to behold, I would have wanted to explore the park a little bit more the next day but my friend wanted to see something else. I guess this is it for Zhangjiajie for me. It is really worth another visit if only to get the perfect shot of those magnificent karst peaks.
[xmlgm {http://www.worldwanderings.net/kml/Zhangjiajie.kmz} zoom=14]